Farmers in Dong Thap Province in the Mekong Delta have already harvested 1.5 million tonnes of their winter-spring rice crop over  208,490 hectares, of which some 200,000 tonnes is still lying unsold, said a representative of the provincial People's Committee.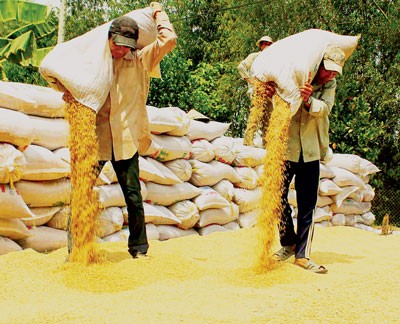 Farmers dry rice under the sun in the Mekong Delta (Photo: SGGP)
However, rice companies have already sold 900,000 tonnes of rice.
Farmers have complained that though this year the average rice productivity was 7.35 tonnes per hectare, an increase of 0.25 tonnes per hectare, farmers are getting a lower profit.
According to provincial authorities, the cost price of un-husked rice is about VND4,200 per kilogram and selling price about VND5,100-5,200 per kilogram, bringing in a profit of 20 per cent, instead of the expected 30 per cent.
 
Several farmers cannot even profit by 20 per cent, because they had to borrow money from banks to pay for fertilizers and other farm expenses.