The current market network in the Mekong Delta, home to the biggest wholesale markets in the South, is operating at low efficiency due to poor management, said Mr. Nguyen Viet Cuong, general director of the Viet Mai Construction – Trade and Service Co., Ltd, a company which provide consulting services to markets in the region.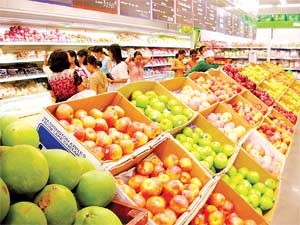 Farm produce sold at the Hung Loi Metro in the southern city of Can Tho
So many markets are operating in the Delta that two markets may be located only one or two kilometers away from each other. However, most of them are unorganized or use a self-contained model.

Many larger markets were built in response to the subjective ideas of local authorities without any concrete plan or goal. These end up being ill-operated or abandoned.

Mr. Cuong said he has witnessed many unreasonable development plans in the provinces of Hau Giang, Kien Giang, Ca Mau and Bac Lieu. For example, a residential area was incorporated into a market, but then the market was left poorly managed or unexploited for many years.

This situation has driven many developers away from this field and officials often struggle to implement measures to improve the situation.

Wholesale markets: a long way to go

The performance of wholesale markets has drawn a variety of responses. In the last two to four years, wholesale markets have been set up in Long An, Tien Giang and Dong Thap provinces to provide trading floors and stabilize the local produce market, facilitating the participation farmers in the trading process and removing the middle man.

In fact, most of these markets serve merely as gathering places for traders and many necessary services are not offered.

At Phu Cuong Market, a trading center for produce in Cai Lay District, Tien Giang Province, traders need not pay rental fees because their businesses do not earn enough to pay for them.

It is even worse at the National Fruit Trading Center in Cai Be District, Tien Giang Province. This market faces a severe lack of customers because its location is unsuitable. Some officials are planning to use the market for trading agricultural and aquatic products.

In contrast, Dong Thap Wholesale Fruit Market in Cao Lanh District, Dong Thap Province can be considered a successful market. Total trading volume last year was over 420,000 tons, 8,000 tons of which was exported to China.

Over 21,500 tons of fruit were traded during the first four months of this year. The market expects to see 60,000 tons change hands this year.

According to Mr. Huynh Thanh Hong, head of the market's management committee, its success is a result of efforts to attract investment and provide traders with good conditions to handle business.

One most remarkable feature of the market is that it is the only one in Viet Nam equipped with a center for fruit treatment, preservation and packaging.

Farmers to take active role in trading activities

It is said that the success of a wholesale market lies with three factors: sufficient facilities such as water supply, and electricity; a river bank to gather goods; and a managing committee that keeps an eye on the market's operation.

In February, the government drew up a plan for the Delta in which farmers are given a more active role in trading activities.

According to the plan, over 60 percent of farmers in the region are expected produce and sell their goods under contract by 2010. The plan recognizes the importance of farmers in guaranteeing the healthy development of local markets.

Closer cooperation between wholesale markets and farmers will allow no room for such incidents as the recent rice fever. Farmers could meet the market's demand goods in a short time and thereby increase the stability of the market.

According to Mr. Hoang Tho Xuan, director of the Domestic Market and Policy Department of the Ministry of Trade and Industry, the Delta has 1,756 markets in operation, or 21.7 percent of all markets in the country. However, about 600 of them are unorganized and 42 others operate with low efficiency.

Despite all that, the region has experienced an increase in trading volume of 12.3 percent a year, 1.3 percentage points higher than the average rate of the country.