Party General Secretary Nong Duc Manh, Prime Minister Nguyen Tan Dung and National Assembly Chairman Nguyen Phu Trong warmly welcomed a visit by Queen Margrethe II and her husband, Prince Henrik on Nov. 2.
State-level meetings with each of the three leaders followed a reception held by State President Nguyen Minh Triet in the morning.
In the individual meetings, each leader highlighted Copenhagen's assistance to Vietnam and bilateral economic cooperation.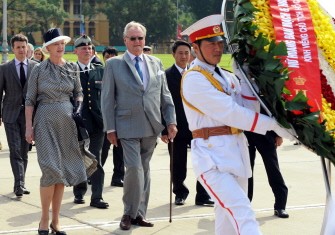 Danish Queen Margrethe (2L) and Danish Prince Consort Henrik (C) walk behind a wreath carried by soldiers as they pay homage to late Vietnamese president Ho Chi Minh at his mausoleum in Hanoi on November 2, 2009 (AFP photo)
In his meeting, Party General Secretary Manh expressed satisfaction at the recent fine development of bilateral relations in various areas, ranging from investment to trade, development assistance, culture, tourism and environmental protection.
"Vietnam hopes to receive more assistance from the international community, including the royal family, the government and people of Denmark," said the Party leader.
He concluded by expressing high expectations for the current visit by the royal family, which he described as a milestone in bilateral relations and also a big contribution to the ties between Vietnam and the European Union.
For her part, the Danish Queen pledged further cooperation and assistance to Vietnam in a wide range of fields, especially in economy and commerce, for their mutual benefit.
In the other meeting, Prime Minister Nguyen Tan Dung expressed thanks for the Danish Government's assistance, especially in poverty reduction and global integration, which topped almost 1 billion USD in the past four decades.
Most recently, Denmark has committed to a 40 million USD aid package to help Vietnam cope with climate change.
"We hope to receive more official development assistance in environmental protection, green energy and medical waste treatment," said the Government leader.
Dung is to attend a UN summit on climate change scheduled to take place in Copenhagen in December, representing Vietnam's strong commitment in this field to the world.
He also emphasized Vietnam's policy to gear relations with Denmark to a "Partnership for development" on the basis of stability, sustainability and mutual benefits.
Queen Margrethe II recalled the visit to Denmark by PM Dung in September as a major contribution to bilateral relations in economy, trade and investment.
She highly praised Vietnam's achievements in renewal, especially in poverty alleviation, education, healthcare and regional and global integration.
The Danish Queen appreciated PM Dung's attention to the UN conference on climate change as evidence of the Vietnamese Government's special attention to the problem.
In the meeting with NA Chairman Nguyen Phu Trong, Queen Margrethe II pledged cooperation with Vietnam in the fields of Denmark's strengths and Vietnam's potential such as clean energy, especially wind energy.
For his part, Trong highlighted Denmark's assistance in jurisprudence, law-making and environmental protection.
He expressed admiration at Denmark's achievements in various fields, especially in ecological and environmental protection, in which he said Vietnam is seeking Denmark's assistance in.
"In the recent past, Vietnam has suffered much damage due to natural calamities such as floods, storms and rising sea levels. Therefore, the country has been increasingly aware of the importance of environmental protection and considers it a key to sustainable development," emphasized the legislative chief.
During their stay in Vietnam, Queen Margrethe II and her husband, Prince Henrik, visited the residence at No. 80 Phan Dinh Phung street where the Prince lived during his childhood, while his father ran a business in Hanoi. The royal couple and their entourage also visited several sites of culture and economic interest in Hanoi.
Crown Prince Frederik and his wife, Princess Mary, attended the inauguration ceremony of a brewery in the midland province of Vinh Phuc and visited the Institute on Research on Climate Change.
Minister of Culture Carina Christensen of Denmark met Minister of Culture, Sports and Tourism Hoang Anh Tuan and attended an award ceremony for children's book authors at the National Library in Hanoi.

Related article
VN wants to boost ties with Denmark: President Triet