National Assembly Chairwoman Nguyen Thi Kim Ngan arrived in Prague on April 11 (local time) to start an official visit to the Czech Republic at the invitation of President of the Senate of the Czech Parliament Milan Stech.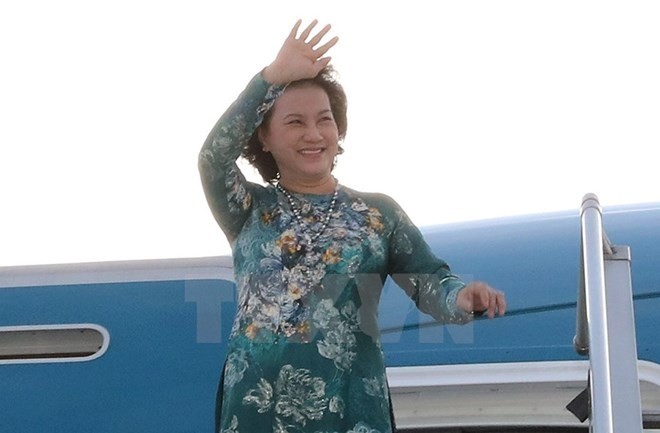 National Assembly Chairwoman Nguyen Thi Kim Ngan (Source: VNA)
The four-day visit looks to strengthen the traditional friendship and multi-faceted cooperation between Vietnam and the Czech Republic, including the collaboration between the Vietnamese National Assembly and the Czech legislative bodies.
Chairwoman Ngan later visited the Vietnamese Embassy in the host country.
Ambassador Truong Manh Son said in 2016 the embassy was very active in external affairs and cooperation in various fields such as education-training, tourism and labour.
The embassy coordinated with the Czech competent agencies to support the Vietnamese community to integrate into the host society.
It also worked with the Vietnamese people association in the country to organize numerous activities to increase their cultural and spiritual life, and strengthen solidarity and mutual assistance.
Chairwoman Ngan affirmed that the Vietnamese Party, State and National Assembly always support and create the best conditions for Vietnamese representative offices abroad to operate and serve the country's building and development efforts.
Along with implementing citizen protection, the embassy needs to promote its role to introduce Vietnam's foreign investment attraction policies to the Czech Republic to increase two-way trade, she said.
She asked the embassy to make specific proposals for the revision of the Law on Vietnamese Representative Offices abroad.
The Czech Republic's recognition of Vietnamese-Czech people as the 14th ethnic minority group is the valuable asset of the countries' amity, she said, adding that the embassy is an active factor in the movement of teaching Vietnamese for expatriates.
Vietnam and the Czech Republic established diplomatic ties in February 1950 and since then the two have implemented policies to develop cooperation across the fields.
The two sides have conducted regular delegation exchanges in recent years, while the collaborative ties between the two nations' legislatures have been thriving.
The Czech Republic was the first Eastern European country to provide official development assistance (ODA) for Vietnam. From 2013, it did not include Vietnam in the list of ODA recipients due to the economic development in the Southeast Asian nation in recent years.
From 1999 to present, the Czech government has provided scholarships for Vietnamese students and postgraduates.
The two sides are under negotiations to sign a new cooperation agreement on education for the next period, while the bilateral labour cooperation has resumed after many years of hiatus.
The bilateral economic, trade, and investment relations have been reinforced and furthered over the past few years. The Czech Republic is running 34 valid investment projects in Vietnam with a total capital of 89.9 million USD, ranking 45th out of the 116 nations and territories investing in Vietnam.
Close to 60,000 Vietnamese are living in the Czech Republic. In 2013, the Czech government recognized Vietnamese-Czech people as the 14th ethnic group.