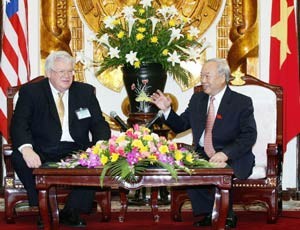 Mr. Nguyen Van An (R) holds talks with Mr. Dennis Hastert at the government guest house in Ha Noi, April 14, 2006 (AFP Photo)
Chairman Nguyen Van An told his guest that the two countries should promote relations in all fields, from politics to economics, trade, investment, science-technology, education-training, culture and defence in the future.
With the signing of the Bilateral Trade Agreement, the US has become Viet Nam's largest trade partner, said the Vietnamese chief legislator.
He also made clear Viet Nam's external policy to become a friend and trusted partner to all other countries, including the US, in the interest of peace, friendship and cooperation for development in the region and the world as a whole.
The National Assembly has played an important role and greatly contributed to the law-making reform in general, thus helping the country meet the requirements of WTO membership, Mr. An said.
He alsotook this opportunity to explain to his guest some issues of US Congressional concern such as the monetary market and the fight against corruption in Viet Nam.
For his part, Speaker Dennis Hastert emphasised that it's time for the US and Viet Nam to develop an open, transparent and mutually-trusted relationship in both words and action.
He said he highly valued Viet Nam's rich human resources as an ideal factor for development.
Mr. Hastert agreed with a proposal raised by Chairman An for further exchange of visits and cooperation programmes to increase mutual understanding and confidence between the two parties.
The top US lawmaker said he personally advocated the passage of a permanent normal trade relations (PNTR) status for Viet Nam. He promised that he would work harder for this target when the issue is brought before the Congress.
Mr. Hastert said that President George W. Bush was looking forwards to his visit to Viet Nam at the end of this year, as the President mentioned at their meeting prior to this visit.
He took this opportunity to express thanks to Viet Nam for its Government and people's cooperation in finding US servicemen listed as missing in action (MIA) during the American war in Viet Nam.
Source: VNA