Investing in tourism projects has become a popular way of acquiring cheap farm land in and around the capital Ha Noi, a moveexperts that say could one day threaten food security.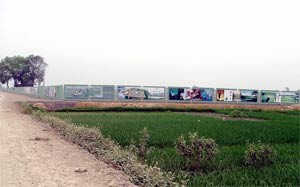 The Tuan Chau - Ha Tay golf course lies beside a rice field in the northern province of Ha Tay

The recent tourism boom has made officials in northern provinces eager to license tourism projects, inadvertently causing an adverse impact on agriculture.

Dr. Pham Si Lien of the Vietnam Construction Federation warned that the arbitrary issue of licenses for tourism projects was usurping more valuable agricultural land than ever before.

Since the beginning of last year, authorities in Ha Noi and the neighboring Hung Yen Province have respectively licensed an urban zone with a golf course and an ecotourism zone just 20 kilometers away from each other.

The urban zone requires 180 hectares of rice paddies and the other project 500 hectares. Both are in the rich alluvial Red River delta.

A similar situation also exists in Ha Tay Province where foreign investors are planning to build several golf courses and urban zones on farmland.

A proposed merger of Ha Tay with the capital will mean there will be 10 golf courses in Ha Noi in future.

Many observers think there is more to this than meets the eye – they say building golf courses and other tourism projects on farmland is a way to get their hands on the land which can be used for other purposes in future for greater profits.

Dr. Lien admitted that building golf courses was necessary to develop the tourism industry since the number of courses in Viet Nam paled in comparison with Thailand or Malaysia.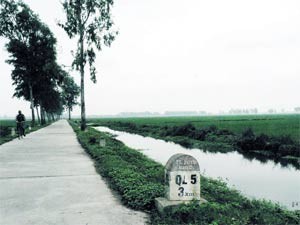 The Van Giang golf course is to locate right next to the National Highway No.5
But authorities should be careful while converting farmlands since it was a one-way process, he explained, saying once a farmland was turned into a golf course, it was impossible to grow crops on it again.

The Vietnam Union of Science and Technology Association says to maintain a golf course, about 1.5 tons of chemicals are required for each hectare of land, making it no longer arable.

The hazardous chemicals also often contaminate the groundwater, causing deadly diseases among humans.

Thousands of hectares of rice fields are disappearing at rapid speed. With their lands taken away, farmers once again face the specter of poverty.

The country could thus face problems ensuring equitable socioeconomic growth with food security in future.

Related article:
Farm Land Disappears As Urban Growth Spreads like Cancer