It is necessary to raise the quality of the tourism workforce to maintain the sector's growth rate and ensure the sustainable development of the country's tourism, said Deputy Prime Minister Nguyen Thien Nhan.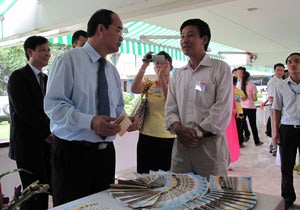 Deputy Prime Minister Nguyen Thien Nhan (L) at the tourism exhibition in Hanoi on August 17. (Photo: edu.vn)
With a long coastline and many beautiful beaches, Vietnam has rich potential to develop tourism, but the lack of professionalism of the industry as well as poor workforce have restrained the sector's development, said Deputy PM Nhan at the second National Conference on Tourism Human Resource Training on August 17 in Hanoi.

According a report from the Ministry of Culture, Sports and Tourism, 30 % of the industry workforce has not yet graduated from senior high school. Only 43% of the people in the sector were trained professionally while 57% were trained in non-tourism fields.

The number of staff in the sector knowing at least one foreign language is greater than other sectors, at 48%, but the ratio is not high since it is an everyday thing to use foreign languages to serve international travellers.
Most Vietnamese tour guides mainly know English but for other languages, there is a minority of people having a good command of them.

Mai Tien Dung, deputy director of the Hanoi Department of Culture, Sports and Tourism said 45 percent of tour guides fail to meet the requirements of tour operations and standard in English.
The same situation also occurred in Ho Chi Minh City, which attracts 65 percent of total international tourism and holds 24 percent of the industry workforce nationwide.
Despite improvements in quality and quantity, the tourism industry workforce has not met the requirements of the market economy, especially in terms of professionalism and command of foreign languages, said Dung.
According to Can Tho Province's Department of Culture, Sports and Tourism, of 17,000 laborers working in the industry, nearly 900 laborers have bachelor and master's degrees.
Deputy PM Nhan said that to improve workforce quality, it is necessary to enhance training quality as well as strengthen cooperation between tourist agencies and schools. Schools provide basic knowledge, so tour guides have to improve themselves through practices in tourist agencies, he added.
La Quoc Khanh, deputy director of the Ho Chi Minh City Department of Culture, Sports and Tourism said laborers need to be trained both schools and tourist agencies.
Deputy PM Nhan suggested that each tourist agency needs to own at least one training center to help training and job skills improvement.
The country now has over 284 tourism training schools including 62 universities, 80 junior colleges and 117 vocational schools. Tourism schools mostly provide training in cooking and hotel room, table, bar and reception services, while tourism colleges have developed in recent years with teachers mostly coming from other subjects.

Expert forecasted that the tourism industry needs 1.5 to 2 million laborers by 2015. Hotel services alone need 185,632 people by 2010 and 250,000 by 2015 compared to 115,050 in 2005. Meanwhile, travel and transport services need several tens of thousands of laborers.

Between 2011 and 2015, tourism centers will be upgraded to meet international standards and international schools will be allowed to provide tourism training services in Vietnam.

However, experts said the strategy should be detailed to make it effective and suited to conditions in Vietnam.