Rapid tourism development, excessive shrimp farming and indiscriminate discharging of wastewater has destroyed and polluted most parts of the once serene and beautiful coastline of the central region, which stretches across more than 1,000 kilometers, with several bays in between.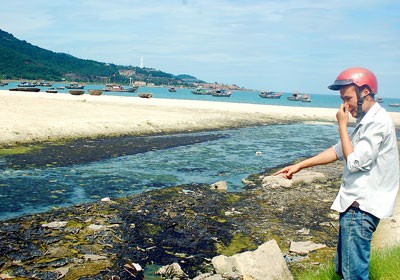 Grimy black wastewater now flows on Tho Quang Beach in Da Nang City (Photo: SGGP)
For more than ten years, vast strips of coastal protective forests have been chopped down by residents in Ha Tinh, Quang Tri and Thua Thien-Hue Provinces to make room for white-leg shrimp farming.
According to the Departments of Agriculture and Rural Development in these provinces, the area for shrimp farming on coastal sand banks now exceeds 1,000 hectares.
Several households have destroyed forests and dug hundreds of ponds without permission for shrimp farming in Hai Lang District of Quang Tri Province.
The 100km coastline in Da Nang City and Quang Nam Province was covered with green pine forests just ten years ago. Now it is spotted with shrimp ponds, tourist sites and resorts.
Along a 30km stretch of the coastal road from Son Tra District in Da Nang City to Hoi An ancient town in Quang Nam Province, more than 30 tourist and resort projects have come up.
Huynh Van Thang, deputy director of the Department of Agriculture and Rural Development in Da Nang City, said that he had proposed to city authorities not to issue licenses for tourist projects near the pine forest.
He wanted tourism projects built further inland in order not to harm the pine forest, which plays an important role in warding off storms and erosion. However, regardless of his advice vast tracts of the pine forest were chopped down.
The construction of tourist sites has not only destroyed pine forests but also caused landsides along roads from Cua Dai Beach in Hoi An Town to Xuan Thieu area in Da Nang City. Sea waves have eroded tens of meters of land in some places.
In November 2007, the People's Committee of Da Nang City licensed Daewon Cantavil Company to build the Da Phuoc Urban Area on Da Nang Bay in which 180 hectares of the bay was filled up to make way for the project, appropriating the anchoring location of hundreds of boatmen.
Similarly, My Khe Beach in Da Nang City is facing pollution from wastewater which brings with it plastic bags and garbage and flows onto the beach.
Trieu Lang Beach in Quang Tri Province is now heavily polluted as well, which local residents attribute to indiscriminate flow of wastewater from shrimp farm ponds.