Participants at the Asia-Europe Meeting's (ASEM) forum on tourism cooperation held in Ho Chi Minh City on Thursday discussed possible agreements on sustainable tourism and socio-economic development.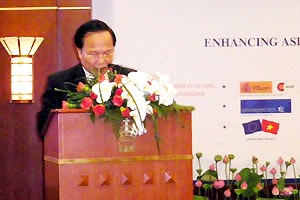 Hoang Anh Tuan, Viet Nam's Minister of Culture, Sports and Tourism, opens the ASEM tourism forum on September 11
Hoang Anh Tuan, Viet Nam's Minister of Culture, Sports and Tourism, made a full commitment to ASEM ties in tourism while calling for stronger cooperation and assistance from member countries during the forum, the first of its kind in Viet Nam.
 
"Through tourism co-operation, we can increase our efforts to build a more solid economic partnership among ASEM-member countries," he said.
 
Issues of hunger eradication and poverty alleviation, cultural heritage preservation, environmental protection, and international destination promotion were highlighted as long-term measures for sustainable growth in the two continents.
 
Asia's tourism industry thrives
 
The two continents received a total of 829 million international tourists last year, accounting for more than 92 percent of the world's outbound visitors, according to the World Tourism Organization.
 
Europe welcomed some 480 million tourists while tourism in the Asia-Pacific region grew by 10 percent, the highest-ever, and world tourism grew 4 percent.
 
The organization praised Asia for its impressive growth in tourism and its ability to attract tourists.
 
Mr. Harry Hwang, deputy regional representative for Asia-Pacific of the World Tourism Organization, said that Asia-Pacific is emerging as a more prominent destination on the international tourism map.
 
The region ranks second in the world in attracting tourists, holding 20 percent of the global tourism market share in terms of tourist and turnover, he added.
 
Tourism to Viet Nam grew 17 percent compared to last year, higher than the region's average rate, he said.
 
Mr. Hwang said Asia has great advantages in cultural and ecological tourism with rapidly developed tourism infrastructures.
 
However, he warned, the rapid development of tourist infrastructure and destinations might result in squandering natural resources and life-spans of construction projects.
 
Tourism experts said Asian countries need to restrain such rapid growth if they don't want to deal with resource and environmental protection.
 
Development prospects of ASEM tourism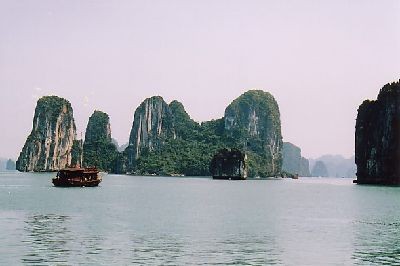 Ha Long Bay is one of the most favorite destination for tourists


 
Kirsten Focken, marketing consultant of the German-based Technical Assistance Organization (GTZ), said more Europeans are traveling, and Asia is one of their favorite destinations. 
 
Their top Asian destinations are China, Thailand, Hong Kong, India, Singapore, Japan, Indonesia, Malaysia, Viet Nam, Pakistan and Republic of Korea, she said, adding that Europe was also luring more Asian tourists, mostly from China, India, Republic of Korea, Thailand and Malaysia.
 
She said 81 percent of European tourists respect the beauty of nature, and 80 percent support cultural preservation as well as respect local cultures.
 
Ms. Focken concluded the factors that make a tourist industry successful are environment, policy, security, infrastructure, communication, prices, natural and cultural resources and manpower.
 
Though the world is influenced by the price hike, the global tourism will maintain steady growth of 3-4 percent per year, said the World Tourism Organization.
 
The organization forecasts there will be 1.56 billion tourists in 2020. Among these 717 million tourists will visit Europe and 397 million will visit the East Asia-Pacific region.