Nearly 2,000 tourmaline special stone products including underclothes, bracelets, wrist-bands, spirulina and pillows, blankets illegally advertised were confiscated by inspectors from the city's Market Management Office on November 18.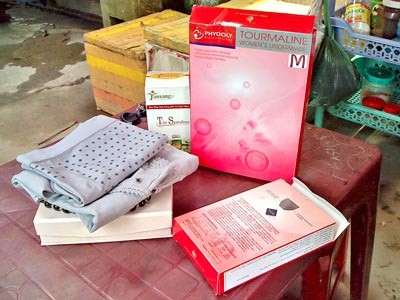 Such products conficated by inspectors from the Department of Health and Market Management (Photo:SGGP)
The inspectors suddenly investigated the branch of the Yahgo Vietnam Trading Ltd Company in district 6 and then seized 2,106 advertisement booklets and the unauthorized products.
Earlier investigators from the city's Department of Health had to disguise themselves as clients and went inside of the office because the security forces and the management board were on full alert and tried to prevent strangers from entering the office.
Although the press and public have raised concerns over the illegal trading of the special stone products, the company office is crowded with customers and consultants.
After hearing advertisements for the healing products, inspectors suddenly announced the investigation order over the office.
11 goods items including blankets, bed covers, men and women undergarments, bangles and nutritious food were found at the ware house of the company. Those in charge of the branch could not present any certificates of the products' origin although they have issued a lot of advertisement manuals at the branch.
The health inspectors seized 8 items for further investigation and ordered the company to stop advertising these products.

Related article:
Do bra, bracelet really offer miracle cure for diseases? Watch this space
Scientists, doctors dismiss 'wonder' bra