All tour operations in Dinky Tourist Area was suspended until it ascertains the individuals and agencies responsible for the Saigon River boat tragedy of May 20, announced the People's Committee of Binh Duong Province on May 23.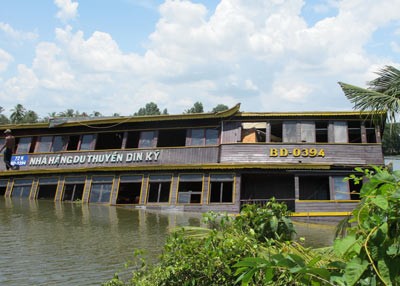 The salvaged double-decker restaurant boat in the Din Ky Tourist Area in Binh Duong Province near Ho Chi Minh City.(Photo:SGGP)
According to Dam Trong Cuong, deputy director of the Binh Duong Department of Transport, Din Ky Tourist Area's wharf did not have a business license but was still plying tourist boats. Police had earlier asked the tourist company to stop operations in the harbour, but its owner did not comply.
Ho Chi Minh City Maritime Port Authority has coordinated with relevant agencies to check the registration licenses, safety equipment and driver's license of eight ships operating in the tourist sector.
Most ships had complied with regulations but some ships did not have adequate safety equipment such as lifebuoys, fire prevention and fire fighting systems.
According to Vietnam Inland Waterway Administration, tourist agency and transport agency must be responsible for the boat tragedy because they manage tourist ships.
Related articles:

Police investigate tourist boat tragedy
Body of the the last victim in the boat tragedy found  
Three arrested for sunken boat tragedy   
Cruise ship sinks in Saigon River