The Veterinary Department in Ba Ria-Vung Tau Province claimed on March 21 to have detected five pig-breeding farms that were using banned toxic substances to stimulate quick growth of lean meat in pigs for lucrative profits.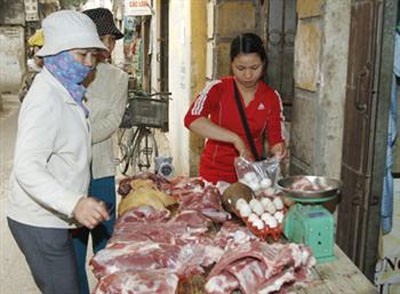 Consumers find it impossible recognise poisoned pork products
Earlier, the Veterinary Department in Ho Chi Minh City had checked samples from several slaughter houses in the city and discovered that pork meat arriving from Ba Ria-Vung Tau Province had indeed contained banned toxic substances.
The Ba Ria-Vung Tau Province department had immediately collected samples of pork meat from five pig-breeding farms in the province, and sent them to the Centre for Veterinary Hygiene Inspection for testing. Results showed that the samples contained banned toxic substances such as Clenbuterol, Ractopamin and Beta Agonist.
In related news, the Veterinary Department in Binh Duong Province has announced that any pig-breeding farm using growth-stimulation  additives would be severely punished and also face fines of up to VND25 million.
Use of these particular toxic substances had been banned globally many years ago as they were considered a health hazard, causing ailments like gender disorder and cancer.
Related article:
Dong Nai Province cracks down on illicit veterinary businesses