After a period of investigation, the Ho Chi Minh City's Environmental Police caught four trucks discharging toxic waste into the Dong Thanh dump in Hoc Mon district November 27-28.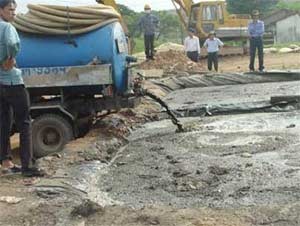 The Dong Thanh dump receives cesspool sludge for treatment (Photo: Tuoi Tre)
The waste belonged to Tonghong, a leather tanning company based in My Xuan 2 Industrial Park, Tan Thanh district, Ba Ria-Vung Tau province, said the police.
The transport of harmful waste began in late 2007 with large volumes being dumped. Two of the truck drivers admitted transporting more than 650 tons of waste.
Many of the trucks that visited Dong Thanh had no waste transport license, said the police.
In late 2002, the city's People's Committee ordered the cessation of waste disposal at Dong Thanh dump due to heavy pollution.
The Urban Environment Company has since been allowed to use the dump only as a facility for treatment of cesspool sludge and burial of poultry with bird flu.
However, the company has used the dump to receive household refuse and even toxic waste, which contains many carcinogens, such as chrome and nickel.
The company has various orders to treat toxic waste at VND1.8-5 million (US$88-295) per ton, the police said.