Many people are familiar with the east Truong Son trail (also known as the Ho Chi Minh trail), however not many people know about its western counterpart located mainly in Laos. Sai Gon Giai Phong reporters recently set out to unearth the secrets of the strategic, yet little-known wartime passageway.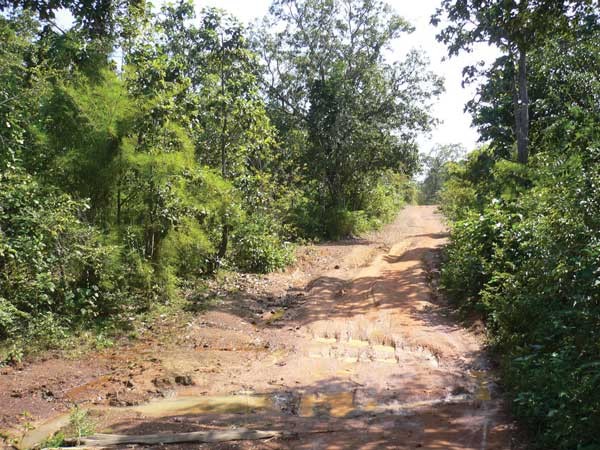 A section of the west Truong Son trail in Laos used by Vietnamese soldiers during the war with the US. (Photo: SGGP)
During the war with the US, the west Truong Son trail served as a tactical road stretching from Quang Binh Province to Laos. It crossed the Lao areas of Kham Muon Savanakhet, Saravan, Se Kong, Boloven Highland, and Atopu; and crossed Se Xu river to Cambodia. From here, it led to the B2 battlefield in South Vietnam.
Atopu is well known to veterans as the last area of the west Truong Son trail in the south of Laos.
From there, B3 battlefield soldiers could travel to Vietnam's Central Highlands while B2 battlefield soldiers in South Vietnam headed east and west through Cambodia.
From the center of Atopu, SGGP reporters headed to Don Mieu Commune seeking a road to a battlefield fought in by Vietnamese soldiers.  Here, reporters discovered a 3m-wide road leading to the Se Xu River.
The accompanying guide Khai said he lived in Laos for 20 years and came across the road while cutting trees to make farmland.
He took SGGP reporters to meet war veteran Bun Tuot, 70, in nearby Bun Vai Commune. Tuot said Vietnamese soldiers had used the road to travel to Cambodia.
According to residents, the road was left fallow when the war ended and three nearby villages moved closer to a main road for convenience.
Tuot said the area was rife with deadly wild animals and bombs left over from the war. Animals killed around 10 people each year and many more residents were killed by bombs, Tuot added.
From road No.9 in Xavanakhet province at the head of west Truong Son, reporters headed 5km along Se Bang Hieng River which meets the Se Pon River at a T-junction called Tha Khong.
Ken Kham from Se Pon said the junction was famous during the war as it served as an army base for enemy troops aiming to control road No.9 during Operation Lam Son 719.
Truong Son soldiers counter-attacked, however, and defeated the enemy.
Kham said most residents in Tha Khong could speak Vietnamese because they had fought in the war and continue to do business with Vietnamese today.
He advised the reporters to head to Tha Khong airport in Dong Commune, now covered heavily by trees and grass.
According to No Keo from Se Pon, Tha Khong airport was built by the French and later used by Americans. When Laos freed the area, the airport was used to transport Truong Son soldiers.
Tha Khong airport was used until 1965 when the US stopped bombing North Vietnam.
After the Paris Agreement of 1973, Tha Khong began operating again until South Vietnam was liberated in April 1975.
A Vietnamese-Laos soldier commemorative house was later built in the center of Dong Commune by Vietnamese soldiers.
Wrapping up their journey, SGGP reporters burned incense near bomb craters and commemorated Truong Son soldiers for their brave sacrifices.