Minister of Industry and Trade Vu Huy Hoang anticipated a considerable reduction in Vietnam's trade deficit – expected to achieve balance after 2015 – at a National Assembly hearing on November 22.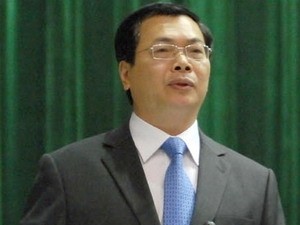 Minister of Industry and Trade Vu Huy Hoang speaks at a National Assembly hearing on November 22 in Hanoi (Photo: Vietnam News Agency)
Hoang told deputies to the top legislative body that the current trade deficit was due to imports of materials which are not available at home. He said his agency had taken firm measures to keep trade deficits below 20 percent of gross export turnover.
The trade minister, the first cabinet member to face the National Assembly question-and-answer session, explained Vietnam still had to import a large quantity of machinery, equipment and materials for domestic production to meet domestic consumption and export.
"Equipment and materials for production make up 93 percent of the gross import turnover while consumer goods such as cars, mobile phones and cosmetics account for just seven percent," Hoang said.
The trade deficit has decreased from 18 billion USD in 2008 to 12.8 billion USD in 2009 and was expected to drop to 11.9 billion USD this year, accounting for 17 percent of gross export turnover.
The Ministry of Industry and Trade calculated that trade deficits will drop to 14 percent of export turnover by 2015 and achieve balance shortly afterwards.
Hoang also pledged to balance demand and supply of consumer goods in an effort to curb the current price chaos. He cited such measures as expanding distribution networks, controlling imports and encouraging the habit of using domestic products, especially in regard to 11 groups of commodities essential to daily life.
The Minister of Industry and Trade, backed by Minister of Natural Resources and Environment Pham Khoi Nguyen, relaxed deputies' concern over the controversial bauxite exploitation project in the Central Highlands. He reaffirmed that the project had been listed as a key project of national security, which required high safety indexes.
"The Government has entrusted the Ministry of Industry and Trade to chair a Council of Science in examining and evaluating the economic efficiency of a project to build the Nhan Co Alumina refinery. Results have shown that it is a project of high economic value after calculation on investment, management costs and market prices has finished," said the trade minister.
National Assembly hearings will last until November 24 with the Prime Minister and four ministers in charge of industry and trade, health, finance and transportation to be questioned by legislators.