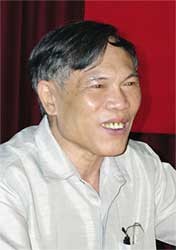 Trade Minister Truong Dinh Tuyen - Citizen of the year - 2006
Trade Minister Truong Dinh Tuyen was declared "Citizen of the Year - 2006" yesterday by viewers of the Viet Nam Television Station (VTV).
Viewers began casting their votes on January 1. Among 20 people nominated for the honor by the VTV, Mr. Tuyen won the title with 1,943 votes.
In addition  a first-place prize was awarded to Vu Huong Lan, daughter of former Deputy Minister Vu Khoan, for her story "My Father". Ms. Lan had entered her story into a writing contest where competitors must write about outstanding citizens.