More than 90 percent of trade villages have been found to violate environmental protection regulations and caused water, air and land pollution and have serious food safety problems, recently said Colonel Nguyen Xuan Ly, head of the Environmental Police Department.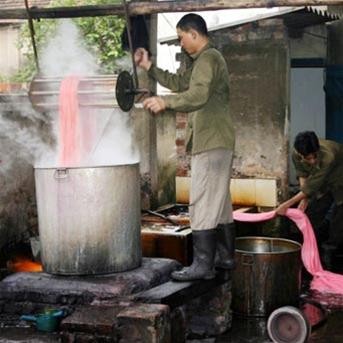 Dye cloth water from Van Phuc trade village flows untreated into the environment.
To resolve environmental regulation violations at trade villages, State agencies will focus on protection and prevention measures, as well as fighting environmental violations, Col. Ly said.
According to a survey on pollution levels around trade villages, it showed that most trade villages did not care about environmental protection measures.
All 123 etablisments in Tu Son, Bac Ninh Province, did not have sewage nor exhaust fume treatment systems.
According to results of water samples taken from villages, water pollution had exceeded limits, with sulphur dioxide 40 to 60 times that legally allowed.
Dust concentration was 113 to 230 times the legal limit and nitrogen dioxide levels 50 to 70 times that allowed.
Many wood and paper producers in Bac Ninh and other trade villages have been causing environmental pollution, with their waste water flowing untreated directly into rivers and canals.
Col. Ly said that relevant State agencies need to educate locals in order to enhance environmental awareness.
The State needs to use measures, such as finance, better management and coordinate with related ministries, in order to reduce pollution.
The Environmental Police Department will penalize establishments in villages that violate environmental protection laws. The department will also ask the owners of the establishments to promise to take action to the protect environment, Col. Ly added.