Traders have rushed to purchase tender areca nuts, young oranges and dragon fruit buds in the Mekong Delta for the last one month for sale to China.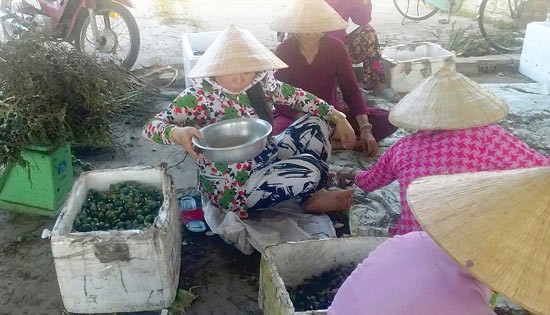 A purchase spot of tender areca nuts in Phong Dien district, Can Tho (Photo: SGGP)
They pay as much as VND40,000-70,000 a kilogram of tender nuts and only VND3,000-5,000 a kilogram of old ones in Phong Dien town, Can Tho City, prompting farmers to harvest young nuts to earn more profit.
Deputy Chairman of Phong Dien town Farmer Association Nguyen Hung Thoai said that local residents have rushed to transport the nuts to purchase spots. Many reaped all before the nuts become mature.
Similar condition has also occurred in other provinces in the delta.
Farmer Nguyen Van Lam from Cau Ke District, Tra Vinh province told he has 100 areca trees that are giving nuts. Everyday tens of people ask to buy, they are willing to deposit VND50,000-60,000 a kilogram.
A trader in Phong Dien district, Can Tho city named Vo Chau Son said that he bought about 400 kilograms of areca nut bunches a day and resell to another trader in Ho Chi Minh City, who then transport the consignment to the northern city of Hai Phong by airway for sale to China.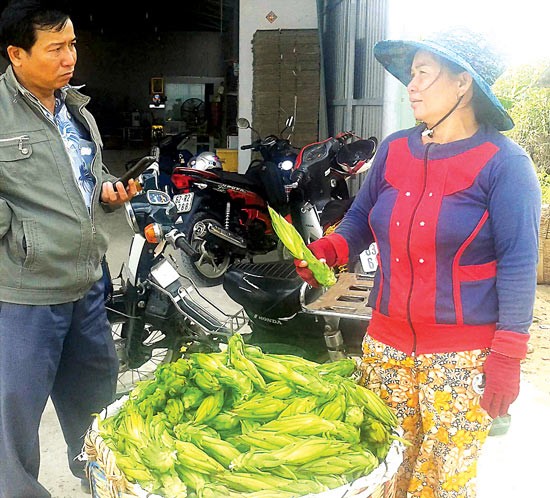 Traders buy dragon fruit buds in Cho Gao District, Tien Giang (Photo: SGGP)
Son told he has mainly contacted with the buyer in HCMC via telephone.
Deputy Chairman of the Farmers Association in Phong Dien warned farmers against chopping down other fruit trees to plant areca to prevent them from falling in difficulties in case traders stop purchase.
Cho Gao district, Tien Giang province has at least four establishments buying dragon fruit buds. Some traders have even built drying room and cold storage in Quon Long Commune to process and store the buds at a capacity at thousands of tons a single day.
Phan Hoang Nhan, owner of an establishment in the commune, said that his trading partners from Long An province ordered to buy the buds as much as possible.
Tran Thi Chau Giang, owner of a processing unit, said that she heard that the bud would be used for making tea. After being processed, the product would be transported to Mong Cai border gate for delivery to China.
A dried bud kilogram fetches VND120,000. Many farmers in Quon Long are profited with the prices of VND3,000-5,000 a kilogram of fresh buds. It is easier and more profitable than selling ripe fruits that take them a lot of time to take care of.
Le Van Tao, chairman of Dang Hung Commune People's Committee in Cho Gao, said that local authorities knew about the condition but did not know how to handle.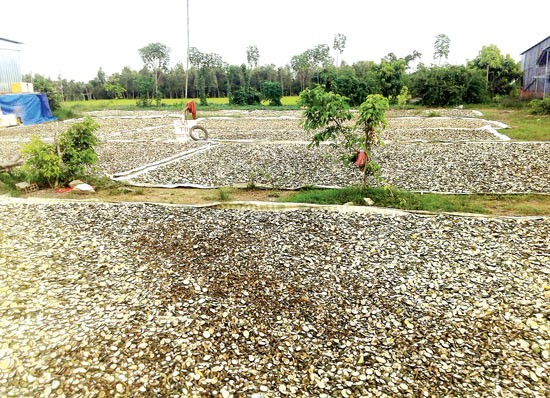 Young orange are dried in Tra On district, Vinh Long to supply Chinese market (Photo: SGGP)
Nguyen Ngoc Vinh, an official from the district Department of Agriculture and Rural Development, advised farmers to be cautious when trading the buds because it is not a traditional commodity.
Meantime, traders have hunted for young oranges in Vinh Long, Tra Vinh and Dong Thap provinces to sell to China also.
Farmer Nguyen Van Ton from Cau Ke District, Tra Vinh said that traders paid VND2,000 a kilogram of young oranges and VND12,000 a kilogram of dried products in unlimited volume.
A trader from Tra On district, Vinh Long revealed that his family bought two tons of the fruit every day to supply Chinese market. He and other traders said that they did not know what the buyers used the young fruits for.