A terrible bus accident occurred early yesterday in the central province of Khanh Hoa, killing two and injuring two others, increasing the number of traffic victims in the area to 16 dead and 27 injured in less than two weeks.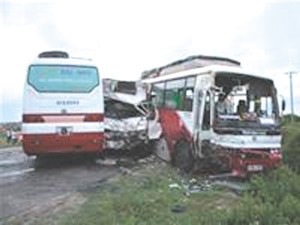 The bus accident occurs in the central province of Khanh Hoa

Local authorities said a driver's assistant and a passenger died immediately while the rescue team transferred two injured people to the commune's hospital.

As reported by local newspapers, this was the third traffic accident in this province in just nine days, making a total of 16 dead and 27 injured.

A meeting among local authorities, police and relevant units was held after the accident to discuss measures to increase the people's awareness of traffic safety and order enforcement.

Minister of Transport Ho Nghia Dung said in an interview with a Sai Gon Giai Phong reporter that he and his ministry would place emphasis on traffic safety and formulate a series of action plans.

He said the ministry had submitted a plan to the Government proposing an urgent project for promoting traffic safety and reducing traffic accidents. Within July, the Prime Minister will chair a meeting on a national scale to carry out the plan.