Traffic accidents increased in the four-day National Holiday this year with 86 cases killing 114 people and injuring 145 others nationwide, reported the National Traffic Safety Committee.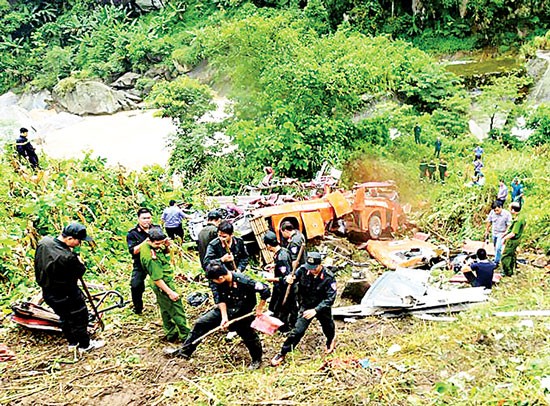 The bus accident's scene in Lao Cai (Photo: SGGP)
Sixty three cases were recorded on the National Day alone causing 48 dead and 75 injured. Of them were 62 road accidents and one railway case. 
On September 1, a fatal bus accident happened in the northern mountainous province of Lao Cai. The passenger bus fell into a ravine killing 12 and injuring 41.
In another road accident in the Red River Delta province of Hung Yen, a coach was out of control running cross the road divider and crashing into a seven-seater car on the opposite direction.
The Ministry of Public Security's car was carrying officials on duty. The accident killed three on the car including a police lieutenant general, a driver and a military official. Another military colonel was injured.
In the four days, traffic police forces handled 28,781 cases breaking the traffic law, issued fines of VND14.15 million (US$668,000) and seized 109 automobiles and 4,080 motorbikes.