Hanoi and Ho Chi Minh City will begin handing out steeper fines for traffic violations across the country starting May 20.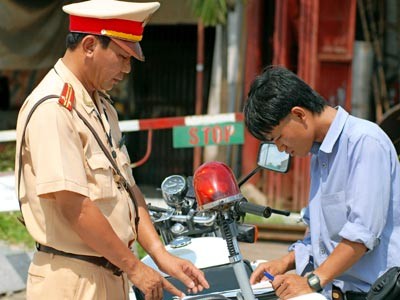 A police officer and a traffic rule violator.
The new fines will be 40-200 percent higher than current penalties across the country.
According to a new decree, motorbike drivers will be fined VND300,000-500,000 (US$16-27) if caught disobeying traffic signs, entering banned streets, driving the wrong way down a one-way street and could face a 30-day license suspension.
Previously, city motorbike drivers were fined VND100,000-400,000 ($10-21) for infractions.
Car drivers, meanwhile, will be fined VND600,000-1,000,000 ($31.50-53) – more than double previous fines – for parking in banned areas, driving on banned streets, and driving the wrong way down a one-way street.
Higher penalties will also be imposed for drunk driving, from VND1-1.4 million ($53-74), instead of the current VND600,000-800,000 ($31.50-42).
The Ministry of Transport has asked the Hanoi People's Committee and HCMC People's Committee to publicize the new fines in downtown areas ahead of May 20.
The ministry also asked the two cities to strengthen cooperative efforts to ensure traffic safety and order, as well as coordinate with the ministry to monitor traffic issues and report to the Government.