Standing Deputy Prime Minister Truong Hoa Binh on December 22 urged authorized agencies, localities together with scientists to find solutions to the worsening traffic jam in Hanoi and HCMC, saying that will be an especially important mission next year.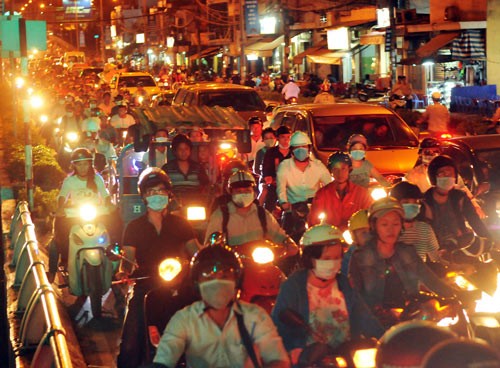 Traffic jam in Pham Hung street, District 8, HCMC on December 22 (Photo: SGGP)
Severe traffic jam had negatively impacted the images of big cities in the country and lost their opportunities, he said at the traffic safety conference 2016 in Hanoi.

He required relevant sides to study to positively change the behavior of traffic participants or raise citizens' awareness of abiding by traffic law, which has been one of reasons for the rampant traffic congestion.

Many problems in traffic organization and management as well as feasible solutions were pointed out and put forward by experts at the conference.

Previously, HCMC suffered long traffic jams in some places surrounding airport, roundabouts, crossroads and entrance gateways to the city with notorious names such as Rach Chiec Bridge, Saigon Bridge, Hanoi Highway, Binh Trieu crossroads and National Highway 1A. Now traffic jam has spread citywide.
Municipal efforts such as traffic separation, road broadening and public transport development have seemed to be short of vehicle increase speed.

Dr. Dao Huy Hoang, director of the training and information center under Transport Science and Technology Institute, the Ministry of Transport, said traffic jam was an inevitable consequence of breaking urban plans with a slew of civilian construction sites having been developed inner cities, putting heavy pressure on traffic infrastructure.

Citizens have not interested in public transport system which has failed to meet their demand, he added.

Traffic infrastructure upgrading has been unfeasible since land fund has run out. It is impossible to demolish houses and other works to build roads because of huge compensation and complicated procedures. Building flyovers is one of useful measures but it is too costly and just provisional.

Some sustainable efficient solutions to urban traffic overloading is the removal of large schools and government agencies out from cities' center areas, control of multi-storey project licensing, individual vehicle limitation and working hour adjustment. However they have been conducted by halves and raised controversial opinions.

Public transport must be convenient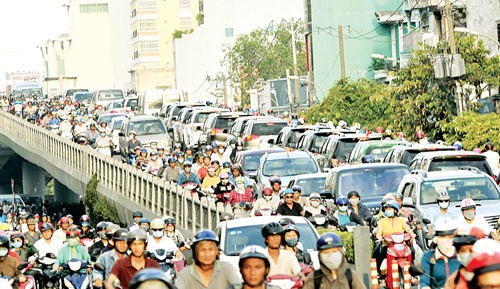 Traffic jam in Phan Hung street, District 8, HCMC on December 22 (Photo: SGGP)
One of the most efficient measures to reduce traffic jam is developing public transport. However the number of bus passengers last year dropped for the first time after many years of increase in Hanoi and HCMC.

Mr. Nguyen Huu Duc, senior consultant expert for projects of Japan International Cooperation Agency (JICA), said that the bus commuter reduction had been caused by difficulties for citizens in accessing public transport service, especially in densely populated areas.

Long narrow alleys have forced citizens to travel by motorbikes or bicycles instead of buses.

Similarly, citizens in urban areas, industrial parks and hi-tech parks have hard accessed buses with few nearby bus stops. For instance, Hoa Lac Hi-Tech Park stretches over 1,865 hectares in Hanoi but there are only two bus stops in the fringe of the park.

Therefore, convenience must be paid attention to when authorized agencies develop public transport system such as urban railway and bus rapid transit.

'Park and go' has been applied in many nations, facilitating passengers' access to public transport system.

This solution will increase the serving area of public means of transport by 16 times compared to now as citizens have to walk over long distances to reach stations.

However, with little area left for static traffic, it is very difficult to build such parking lots, said Mr. Duc.

According to experts, the conception that public transport is for low income people should be changed. At present, bus service quality has been better than before but more efforts need to be carried out to improve the service and meet the demand of the middle class.

Priorities should be given to economic sanctions or cooperation with companies and organizations rather than administrative measures in efforts to limit individual vehicles, experts said.

They suggested that municipal authorities can impose high parking fee inner cities. Government agencies and companies can set their internal rules asking their employees to go to work by buses instead of cars and give them financial assistance to use public transport.

They also emphasized the stuff of authorized agencies when implementing suitable but controversial measures to develop public transport such as the high parking fee.