With vehicles weighing more than 12 tons being prohibited from traveling on Highway 80 between Vinh Long and Dong Thap Provinces during flood seasons, they are forced to take the ferry crossing from Vinh Long to Can Tho, causing long queues on either bank.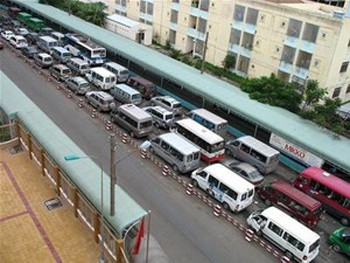 This file photo shows vehicles await at the Can Tho ferry station in August
Things are worse on the Vinh Long side, with two or three lines of trucks and buses extending for up to two kilometers during rush hour.
Thirteen ferries of 100 to 200 tons operate all 24 hours but still fail to cope with the traffic.
Around 7,000 trucks and buses and 60,000 motorbikes use the ferry station every day.
With Highway 80 now closed to them, large vehicles have to make their way to Dong Thap and An Giang through Can Tho.