The police in Nghe An Province is looking for the owner of the truck, suspected to be smuggling timber, and determining why the truck carrying a heavy load of wood overturned and killed ten people on Wednesday.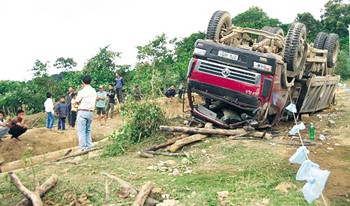 The overturned truck at the accident site (Photo: Thanh Nien)
According to initial information, the truck was bringing in logs of wood to Quy Hop District from Xieng My Commune in Tuong Duong District, when it overturned and the logs rolled on 15 bystanders, killing ten and injuring five others.
The provincial People's Committee on Thursday offered VND2 million for each dead victim and VND1 million for each injured person to their respective relatives and family members.
The Relief Committee of Quy Hop District, from where the ill-fated men came, gave VND5 million to families of each dead person and VND3 million for each of the injured.
Authorities in Quy Hop District and Chau Ly Commune also lent support by offering VND2 million for the dead and VND500,000 for the injured as compensation.
Ten men died and five are in critical condition after a truck carrying logs of wood overturned and crushed them, early Wednesday in Binh Chuan Commune of Con Cuong District in the central province of Nghe An.
Related article:
Fatal truck accident kills 10, injures 5 in Nghe An Province