A traffic accident on the Hanoi – Ha Nam railway intersection in Thuong Tin District in Hanoi on March 30 crushed nine people to death and severely injured many others.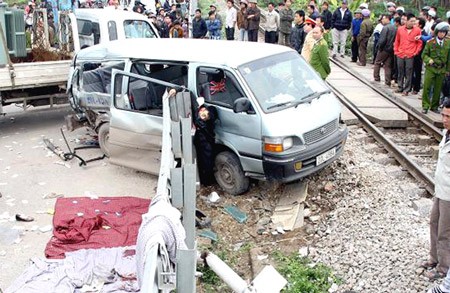 The battered car at the accident site. (Photo:SGGP)
At 2:30 pm, a southbound train crashed into a 16-seater car killing seven passengers instantly. All the other passengers in the car were injured and admitted in the local hospital, where two died later on the same day. 
The car was crossing the railway track when the train slammed into its rear. Eighteen persons were in the car at that time, just returning from a wedding party at Van Village in Thuong Tin District.
The car driver was talking on the phone and did not pay attention to the oncoming train. Some people called out to draw his attention but he continued talking on the phone.
The driver of the car sustained only minor injuries.
According to the police, the train later continued its journey into central Hanoi.