A passenger train crashed into a truck April 6 in Tam Hiep Commune, Thanh Tri District, Hanoi as the vehicle attempted to cross the railway tracks.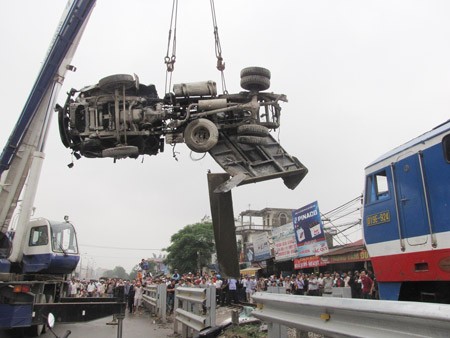 A crane lifts a truck away from the railway tracks where it was struck by an oncoming train on April 6 in Hanoi.(Photo:SGGP)
The truck was dragged for 100 meters before becoming dislodged from the tracks.
Nguyen Tai Hai, the truck driver, from Hoang Mai District, Hanoi, was hospitalized with serious injuries.
The accident also broke a lamppost and caused an hour-long traffic jam along Highway 1A.
According to witnesses, the train blew its horn from a distance and the signal lights were flashing but the truck continued to proceed across the tracks.
In related news, on the same day, a serious vehicular accident occurred in the Central Highlands' province of Kon Tum, leaving one dead and one injured.
A taxi traveling along the streets of Tran Van Hai-Dao Duy Tu struck a bicycle and then a motorbike.
The driver of the motorbike, Pham Thi Tam, 37, was killed while 11-year-old cyclist Thieu Ngoc Dong suffered serious injuries.
Taxi driver Huynh Nhan was reportedly drunk behind the wheel at the time of the accident.