The People's Committee of Dong Thap Province and the Ministry of Natural Resources and Environment will host a ceremony on Tuesday to receive the Ramsar Site certificate for the Tram Chim National Park.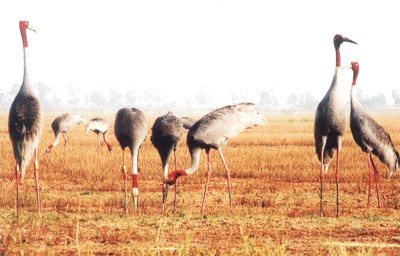 Migrating Sarus cranes are declining in numbers at the Tram Chim National Park (Photo: SGGP)
The management committee of the national park in Tam Nong District in Dong Thap Province in the Mekong Delta said that since the beginning of 2012, Tram Chim National Park has received about 5,000 domestic and foreign visitors, an increase by 40 per cent over the same period last year.
However, they are facing many challenges in preservation and development of the park.
For instance, the numbers of Sarus cranes migrating to the National Park have decreased over the years. In 1988 there were 1,050 Sarus cranes, which have declined to only 50-60 this year.