Sanctions on road loading capacity of trucks will be removed and trucks overloaded less than 10 percent will not be penalized any more, said Minister of Transport Dinh La Thang at an online conference with nationwide businesses on transport policy 2014 in Hanoi on July 3.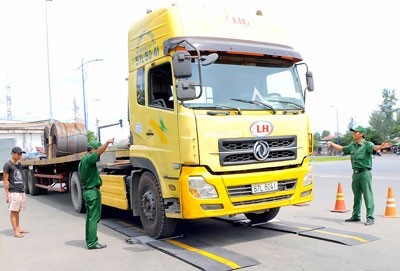 A weighing station in HCMC  (Photo: SGGP)

The Ministry of Transport will inform the Ministry of Public Security and relevant agencies of the change's immediate implementation on July 4 at the latest. 
Minister Dinh La Thang issued the instruction after transport companies complained that regulations on overloading clampdown have seriously affected their cargo transport activities. 
He apologized for inconveniences that businesses have met due to complicated and overlapped regulations on overloading. The ministry has not solved their issues timely, he admitted. 
Mr. Thang instructed authorized agencies to immediately revise Decree 171 before December 31 this year to clear difficulties for transport companies.