Minister of Transport Dinh La Thang, who is chairman of the Central Road Maintenance Fund Management Council, has proposed the Government to halt collection of road maintenance fee on motorbikes from next January for low effectiveness and unsuitable ways of the collection.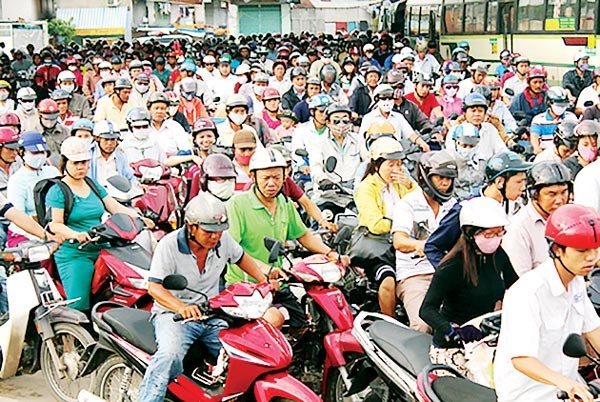 Many residents are of the opinion against road maintenance fee collection on motorbikes - (Photo: SGGP)
According to an announcement by the Ministry of Transport on Thursday, the fee collection has been implemented for the last two years but reached only 21 percent of plan. It reduced 6.71 percent over plan in the first half this year.
That is because wards and communes have been asynchronous in managing motorbike number, organizing the toll collection and contributing the collected fund to the state budget.
Besides, sanctions on those not paying the fee as per last-year issued circular 133 by the Ministry of Finance were unfeasible and uncontrollable because penalization has come under the jurisdiction of tax agencies, inspectors from authorized departments and local people's committees not police force.
Works on mobilizing residents to pay the fee have been limited. The fee payment has depended on motorbike owners without specific organizations and individuals taking responsibility for the toll collection.
On the other hand, many people from provinces have studied, worked and lived in big cities, resulting in a wide difference between registered vehicles and practical number and ineffective collection plan-making.
The collection has been implemented in some provinces and cites while some others such as Ho Chi Minh City, Da Nang and Khanh Hoa have not done so, causing unfairness and not good public opinions.
While waiting for the adjustment of related legal documents, the Road Maintenance Fund proposed the Prime Minister to permit halting the fee collection on motorbikes starting January 1 next year.
Minister Thang also suggested the PM to task his ministry to work with the Ministry of Finance and other authorized agencies on Decree 18 adjustment towards abolishing the road maintenance fee collection and send the PM a report this year.