Transport Minister Dinh La Thang has decided to inspect the quality of five key projects to uncover reasons for their poor implementation.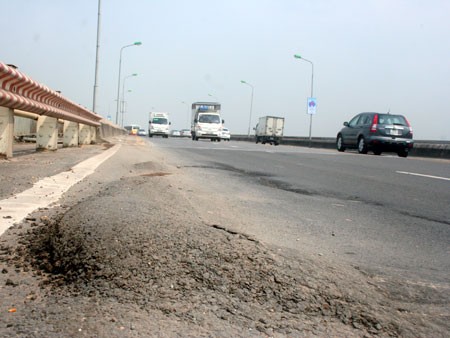 Cracks appear on the Thang Long Bridge
Minister Thang inspected the Ho Chi Minh City-Trung Luong Expressway (HCMC to Tien Giang Province), Thang Long Bridge in Hanoi, the Thang Long Highway in Hanoi, the Cau Gie-Ninh Binh Highway (Hanoi to Ninh Binh Province) and the Thanh Tri Bridge in Hanoi.
All the five projects have opened for public use but are so poor in quality that they are causing serious traffic safety concerns.
Minister Thang stated very clearly that those found guilty of irresponsibly implementing poor quality of work in any of the projects, whether they are individuals or agencies, will face strict penalties.
The minister added that he had personally checked the work along the Ho Chi Minh City-Trung Luong Expressway which was already showing deterioration despite being in use for just about one year.

He said that his ministry will be very strict in dealing with the project's consultancy, its supervising unit, the project management unit and its contractors.
The minister will also inspect cracks appearing along the Thang Long Bridge in Hanoi.
The bridge, made under the direction of the Vietnam Academy of Science and Technology, was a pilot project for use of new imported materials, said Minister Thang, noting that the investigation should be conducted carefully as overly negative reports could stifle new ideas and methodologies.
The ministry will be careful in inspecting the bridge to find evidence of damage caused by the new material or construction techniques used.
So far, around VND100 billion (USD4.78 million) have been spent repairing and upgrading the bridge, but no visible improvement is showing. The cause of the cracks has yet to be determined.