Transport Minister Dinh La Thang, on Wednesday set up a team of ministry officials to conduct thorough inspections on the sale of Tet train tickets, to uncover any fraudulent practices.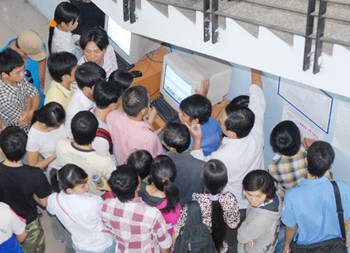 Passengers jostle to book Tet train tickets at Saigon Railway Station (Photo: SGGP)
The team of ministry officials will inspect the sale of Tet train tickets in Hanoi, Lao Cai Province and Ho Chi Minh City from Thursday.
Besides inspections, Minister Thang asked the officials to propose measures to manage and prevent fraudulent practices and to enhance the quality of service at the train ticket counters.
The highest travel demand on trains is always during the Tet holiday season; hence, for the first time the transport ministry is conducting an inspection of sale of Tet train tickets.