The Ministry of Transport (MoT) on Tuesday tabled a report proposing measures to reduce traffic congestion in Ha Noi and Ho Chi Minh City.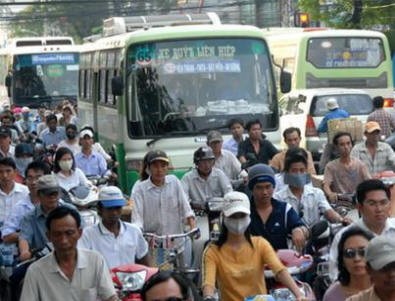 Congestion usually happens during rush hours in Ho Chi Minh City
Minister of Transport Ho Nghia Dung said traffic congestion in Ha Noi and Ho Chi Minh City was caused by inappropriate planning of traffic development and urban infrastructure.
Land area used for transport comprises only 2-3% of Ha Noi and 4.5% of Ho Chi Minh City.
The number of vehicles on roads has been increasing sharply. Over the first 10 months of 2007, the number of cars in Ha Noi increased from 22,600 to some 200,000 and motorcycles increased from 168,000 to 1.9 million. Ho Chi Minh City now has 322,950 cars and 3.3 million motorbikes.
Transport systems have not kept up with peoples' needs.
The MoT now proposes Government soon deploy some 800 more policemen in Ha Noi and 1,000 in Ho Chi Minh City and apply maximum administrative penalties to traffic violations.
In the mid-term, MoT seeks the two cities revising their urban plans to devote at least 20-25% of their land area to transportation routes and require new buildings have parking lots.
MoT called for limitations on motorcycle and taxi numbers and more incentives for using public transport, such as the exemptions of bus fares to local residents and land-use fees to transport businesses.
Government on Monday asked the MoT to make amendments to its report and work with the Ministry of Finance to develop measures for promoting public transportation.
Prime Minister Nguyen Tan Dung said traffic issues in Ha Noi and Ho Chi Minh City can be solved with proper urban planning. Traffic projects aiming to reduce congestion should be prioritized and some businesses, hospitals and schools should be relocated to outlying areas, he said.
PM Dung agreed to augment the number of traffic wardens and administrative fines applied to violations, saying Government will soon make a resolution on traffic congestion in the two cities.