In recent years, locals in central Binh Dinh Province's Hoai An District lamented the drop in the number of do bau (aquilara crassna) trees producing valuable agarwood. But now, thanks to innovative new technology, do bau growers say business is thriving.
Native to Southeast Asia, agarwood is a type of dark, resinous heartwood, highly valued for its distinctive fragrance. The aromatic resin is produced from mold in the trees, and is often used for incense and perfumes.
Nguyen Son Dinh, an employee of the office of the district Party Committee, is one of the recently successful agarwood producers. He said he experienced much hardship in the past trying to eke out a living by searching deep in the forest for the resource.
"Seeking agarwood in forests was a very painstaking and dangerous job and in many cases it did not pay off. Many times I sat in the middle of a forest and thought about growing aquilara crassna trees at my home to harvest agarwood," he said.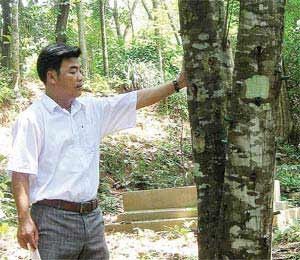 Mr. Nguyen Son Dinh stands next to his agarwood-producing do bau trees in central Binh Dinh Province. Thanks to new technology from the Netherlands, he and many other farmers have been successful in producing the highly valuable wood. (Photo: SGGP)
Dinh finally put his idea into action. He picked up aquilara crassna seeds in a forest and took them home. Initially, he planted 50 seeds and waited seven years for them to grow. He then hired experts from Quang Ngai Province and Ho Chi Minh City to advise him on how to produce agarwood from the trees.
But despite Dinh's efforts, he was unsuccessful. Undettered, Dinh began searching on the Internet for other methods of producing agarwood and for companies who specialized in the field.
Eventually, Dinh came across Bay Nui, a HCM City-based company that had successfully produced agarwood. He purchased their technology and applied it to his trees. Before long, Dinh's do bau were producing agarwood.
The technology is the result of a Netherlands researcher who transferred it to Bay Nui, Dinh said.
He then suggested that a seminar on aquilara crassna be held in Hoai An to introduce Bay Nui's cultivation technology to other local growers.
"Bay Nui assured growers they could harvest agarwood in only two years thanks to the technology," Dinh said.
The company said it would purchase all locally made agarwood products and offered three sale options for growers to select.
Dinh says his mature trees produce 5-7kg of raw agarwood and 1 kg of agarwood chip, and he now earns a high income from his business.
Dinh's agarwood chip products have been qualified for export to the US, Hong Kong and other markets. Bay Nui, meanwhile, purchases his products for US$800 per kilogram.
Following Dinh's success, many locals have also purchased the new technology to boost their business.
In addition, many businesspeople from Hanoi and HCM City have flocked to Hoai An to buy aquilara crassna seedlings at VND700,000-1 million each. They then hire local residents to care for the trees until they begin producing agarwood in around three years.
Ho Cong Hau, deputy head of the Hoai An District Economic Department, said, "Unlike previously, when many growers had to destroy do bau as they did not produce agarwood, now Hoai An is proudly dubbed the 'country of agarwood' of the province."
"The development of do bau cultivation not only helps local residents improve their income but also contributes to the management and protection of forestry resources," he added.