The People's Committee of Nha Trang City will take over more than 17,700 sq.m of land of 64 households to fence off Đắc Lộc Industrial Zone from the residential area.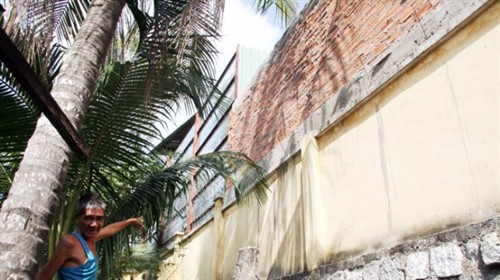 The wall of Khánh Hòa Khatoco Tobacco Factory in Nha Trang City's Đắc Lộc Industrial Zone is about 1.2 metres away from local residents' houses. – Photo tuoitre.vn
The move is aimed at preventing the dust, noise and horrible smell from Khánh Hòa Khatoco Tobacco Factory from affecting households living nearby. These 64 households were the most affected as they were located next to the factory, the Committee said.
Many households opposed the operation of the Khánh Hòa Khatoco Tobacco Factory a short while after it was put into operation in 2013. They had come together and demanded that the factory to close down as the dust, noise and smell from the factory had seriously affected their lives and health.
The provincial People's Committee has organised a dialogue with affected local households, and decided to move them to new places. Two resettlement areas have also been built.
However, Mai Văn Thắng, deputy director of the provincial Department of Natural Resources and Environment said that the industrial zone was located right next to the residential area. Thus, building a green tree-fence measuring 1,500 metres with a width of 50 metres, was necessary to avoid pollution.
More trees should be planted right on the campus of the industrial zone, he added.
Đắc Lộc Industrial Zone began operations in 2010 on an area of more than 34 hectares. A large amount of dust was discharged from the zone, together with noise and smell, seriously affecting residential areas nearby.
Reports from authorised agencies in the past several years showed that the environmental index was below the allowed index, but local residents kept complaining about the pollution.