An earthquake measuring 4.7 on the Richter scale struck off the Phan Thiet coast, in the northern central province of Binh Thuan, at about 8:55 am June 23, shaking surrounding neighborhoods slightly.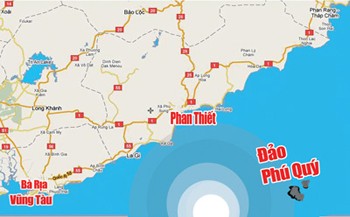 The white ring represents epicenter of a tremor that struck 150 kilometers off Phan Thiet coast on June 23
According to the Institute of Geophysics, the epicenter was 109 east longitude degrees, near Phu Quy Island, 150 kilometers off the Phan Thiet coast.
Aftershocks radiated out to many areas with a host of residents of Ho Chi Minh City and Binh Thuan Province reporting they felt things shake for a short time, from three to five seconds.
The tremor was not out of the ordinary and did not cause any major damage, Nguyen Van Yem from the institute's Earthquake Information and Tsunami Warning Center, told reporters.
He said that the costal areas off the southeastern provinces of Ba Ria-Vung Tau and Binh Thuan are located on earthquake faults, which run from the central coastal region to the southern region, an area regarded as moderate, in terms of its vulnerability to tremors.
Every year the area usually experiences four to five earthquakes, at intensities ranging from 4.7-5.2 on the Richter scale.
The earthquakes occur within the realm of normal tectonics activity and do not necessarily cause tsunamis or other catastrophes. 
Residents who felt the earth shaking were in edifices built on vulnerable terrain, the center said.