Slight tremors shook the capital city of Viet Nam on Wednesday, causing thousands working in tall buildings to rush onto the streets.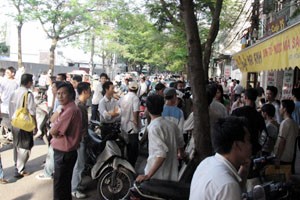 Slight tremors cause panic among people

The tremors struck at 3.45 p.m. and 4.30 p.m. (Viet Nam time), and stemmed from an earthquake in northern Laos that registered 6.1 on the Richter scale.

Those working in tall buildings in Hanoi told reporters they suddenly felt dizzy and heady, and poured onto the street through staircases and emergency escalators.

Vo Minh Tuan working for a communications company, located on Vincom Twin Tower's 22nd floor, said he saw computers, tables and chairs rattle a little.

The Viet Nam Institute for Geophysics said Ha Noi was struck by a quake measuring around 4 on the Vietnamese scale, meaning tall buildings would shake slightly, but escape serious damage.

The institute added that Viet Nam's Dien Bien province, around 500km away from Ha Noi, was hit by a quake measuring up to 6 degrees on the Vietnamese scale.

As yet no casualties have been reported from either Ha Noi or Dien Bien.

The institute's director Doctor Nguyen Ngoc Thuy said slight tremors will still be felt in the coming days in the capital and neighboring provinces. However, the highest level of quakes will likely not exceed 4, too weak to collapse tall buildings, he added.