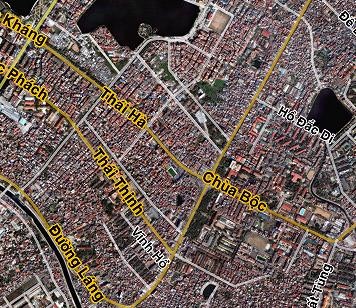 Satellite photo of traffic safety trial route
Ha Noi's government yesterday launched a trial traffic safety program there with the intent of raising public awareness about the human cost of unsafe driving practices.

The program will be carried out as an advertising campaign on one of the major arteries of Ha Noi - from Thai Ha to Chua Boc.
Slogans like "Don't run red lights"; "Drive safely" and "Watch out for pedestrians" have been printed on banners hung along the route as well as on the sides of some 800 buses. In addition, 100 volunteers have joined the program to talk to commuters at the street level about safe driving methods
However, after one week, violations will be ticketed to bring the message home that careless driving practices will not be tolerated. Ha Noi's Department of Transport and Public Works said that officials overseeing the project will try to learn as much as they can from the experience so that they can apply it to other routes in the future.
The trial will run for one month.