The tropical depression currently lashing North and Central Vietnam has now strengthened into a strong storm called 'Jebi', the ninth storm since the beginning of the year.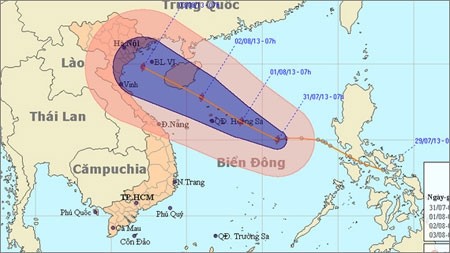 Map of the storm Jebi
According to the Central Steering Committee for Flood and Storm Prevention and Control, six people from the northern mountainous provinces including Lao Cai, Son La, Yen Bai, Dien Bien and Quang Ninh have died in recent days and one is still reported missing.
The new storm is expected to enter the East Sea and lash China's southernmost island province of Hainan first before making landfall in the Gulf of Tonkin.
Until yesterday, the storm was centered at 15.2 degrees north latitude, 115.1 degrees east longitude and 370 km east of the Hoang Sa (Paracel) archipelago. Strongest winds near the eye of the storm reached level 8, moving at 62-74kph and wind gusts were at level 9-10.
The storm is forecast to move northwestwards at 10-15km an hour within the next 24 hours and head towards the Hoang Sa (Paracel) archipelago.
Waters off Binh Thuan Province to extreme southern Ca Mau Province and in the East Sea are currently choppy due to strong southwesterly winds. Border guards along with families of fishermen are constantly updating news of the storm to fishing boats which are still working out at sea.