Those haven't seen the Truong Sa (Spartly) archipelago since it was a lonely, undeveloped set of islands several years ago will be surprised to see how much the place has changed. Solar power is now available and industrial electricity is in the pipeline…
Sai Gon Giai Phong journalists were surprised at the changes, too, particularly those on Truong Sa Lon Island, part of the archipelago, as we traveled with a Ho Chi Minh City Government delegation early this month.
Faces of change
Over the past four years, many civil and public works, including a cultural house, roads, a martyrs' monument and new residential neighborhoods have given Truong Sa Lon a brand new look.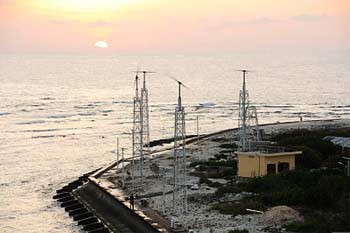 A sunrise on Truong Sa Lon Island, part of the Truong Sa (Spartly) archipelago (Photo: SGGP)
While we visited, 80 workers toiled away at several construction sites that are giving the island a new shape. One of them was Nguyen Thanh Nam, 52, a worker from Tan Cang Sai Gon Works Construction Company, who talked with us about the immense work going on.
Nam was among the first 63 workers sent here by the company to construct infrastructure works four years ago.
When he arrived on the island, many houses were tile-roofed and there were no big buildings. There was little green on the island due to a lack of care and development.
But now, thanks to hard working workers like Nam, the appearance of Truong Sa Lon has totally changed.
Visitors can now see a lot of imposing building, spacious roads, and shining streetlights on most parts of the island.
Asked about his living conditions,and he said: "Our life here? That's good. The same is true of the local residents and soldiers who live here. We grow vegetables and raise livestock to improve our income."
He pointed to his home.
"Our shack is over there, next to a house that is under construction, where there are shining lights.
"Most of the roads here been paved. Our island now is as beautiful as any inland city." 

Clean power

Completed two months ago, Truong Sa Lon's solar power system, as well as the solar energy station on Sinh Ton, another island on the archipelago, now supply electricity for residents around the clock everyday.

The supply is enough not only for lighting, but for TVs and refrigerators too.

Truong Sa Lon has truly become a picturesque city on the sea.

"The clean energy project has been extended to all islands of the archipelago. We expect that by September 2, the National Day, all the islands will have access to the solar power supply," Rear-Admiral Le Van Dao, Deputy Commander of the Vietnam People's Navy, said excitedly.    

The project, on which research was conducted by the Ho Chi Minh City Department of Science and Technology four years ago, was recently completed at a total cost of VND7 billion (US$368,000), he said.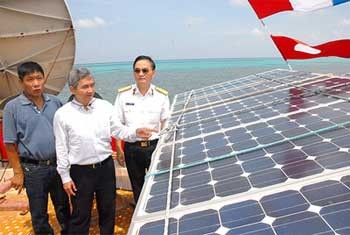 HCMC officials inspect a solar panel system on Truong Sa Lon island. (Photo: SGGP)
Smart toilets

Dr. Phan Minh Tan, director of the department, said his agency was entering the last phase of a project designed to provide the Truong Sa archipelago with "intelligent toilets."

"We are conducting our final experiments for the smart toilet project on Truong Sa. As you may know, organic waste keeps for a long time in the seawater environment, seriously affecting coral reefs and the ecosystem in general.

"With the advanced restroom system, we can save water and ensure organic waste will disintegrate entirely and become fertilizer for use in plant growing," he said.

Industrial power

Other major projects are to set up an industrial electric supply and build service industries for Truong Sa, Mr. Tan said.

"We have surveyed some advanced technologies on the world. I cannot reveal anything now since all things are still being considered, but I can say these projects are feasible."

Le Van Thanh, an expert at the department in charge of HCMC's scientific and technological projects related to security and defense, said the industrial electricity project is of great significance to Truong Sa.

"When the archipelago has industrial power, it can set up seafood processing plants and ice plants, and boost the development of fisheries logistics. Moreover, industrial power will also be a crucial means to turn seawater into fresh water in large quantities."