Despite it being peak season for harvesting ocean tuna that is the main fish export from the central region, hundreds of fishing boats are idling on shore as output has plunged, compared to the same period last year.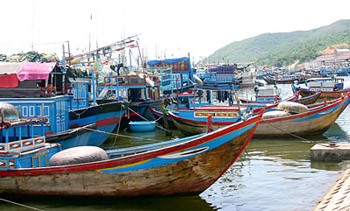 Hundreds of fishing boats idling ashore due to low fish output in the central region (Photo: SGGP)
According to statistics, Vietnam has ranged in eighth position amongst countries exporting tuna to Japan. The Ministry of Agriculture and Rural Development chose tuna as a priority to develop ocean fisheries.
However, local fishermen found that since April the tuna output and productivity had plummeted in Khanh Hoa, Phu Yen and Binh Dinh provinces, which had the highest tuna output in the central region.
The seawater temperature has become warmer causing the fish to move to other seas or move into deeper waters. Most boat owners do not have fish finders to trace the fish direction. As a result, their catch is mostly futile.
Each trip out to sea to catch tuna earlier lasted about 20 days but now it has prolonged to 25-35 days increasing costs to go up. As a result, the export turnover has decreased by 40-50 percent.
In Khanh Hoa Province, 80 percent of the 104 tuna fishing boats have stayed ashore. This has almost shut operations in Hon Ro, the largest fishing port in the southern central region.
Do Trung Hiep, head of the port management board, says that since the beginning of the tuna season, local fishermen have only harvested 200 tons of tuna, 20 percent lower than previous years.
Around 70 percent of tuna fishing boat owners have broken even or else suffered losses. Hundreds of fishermen have changed job, several of whom have put up their boats for sale.
In Hon Ro alone, three boats have sold at only 50 percent of their value.