Heavy rains, triggered by a tropical depression, have been sweeping through central Viet Nam from Quang Binh to Phu Yen provinces in the last two days. At least 21 people were injured in a cyclone while two are missing in a landslide.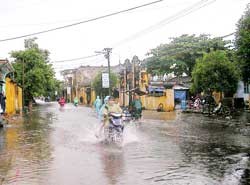 A flooded street in the central region

The National Center for Hydro-Meteorological Forecast predicted the depression to move north by northwest at around 20km per hour in the next twelve hours, which will continue to cause heavy rains, this time from Ha Tinh to Quang Nam provinces.
Due to the rains, water at all rivers in this region is swelling to alarming levels, it warned.
In Quang Nam, several streets in mountainous areas have been severely damaged by landslides, isolating local residents.
This morning, the Quang Nam Department of Trade has appealed to local companies to send supplies to affected areas.
Local authorities have already donated 45 tons of rice to assist victims, especially students. They have forbidden ships to go out to sea and called on others currently at sea to immediately take refuge.
In Thua Thien – Hue Province, a whirlwind yesterday injured 21 people, destroyed 80 houses and several classrooms. Victims have been provided VND1 million (US$63) each for medical treatment.
Two people in Quang Ngai are missing and two fishing boats off the province are judged to be in danger. Competent authorities are doing their best to locate and rescue them.