The local residents in Tan Hoa Commune of Minh Hoa District in the central province of Quang Binh have by chance uncovered two ancient skeletons inside Ton Cave located deep within a forest, said Cao Thanh Binh, secretary of the Party Committee of Tan Hoa Commune on November 17.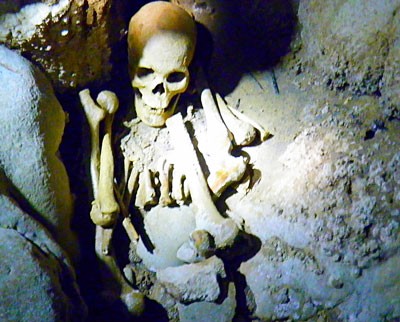 One of the two ancient skeletons found in Tan Hoa Commune (Photo: SGGP)
Experts from the British Royal Cave Research Association have examined the skeletons and found them covered with stalactite residue, which leads them to believe that these could be very ancient skeletons of local Vietnamese people.
However, local residents are guessing that the skeletons could well be the remains of an insurgent army that was loyal to King Ham Nghi about a 100 years ago, and who followed the 'Can Vuong Edict' issued by the  King to pledge allegiance to him and ward off the French colonialists .
According to historical documents available in Tan Hoa Commune, a loyal army of the King remained true to the Can Vuong Movement and had set up camps in caves around the Tu Lan Valley to fight the French colonialists.