Police have launched investigation into a Sunday boat fire incident on the Hau River near a Can Tho gas warehouse in which two were heavily burnt and one went missing.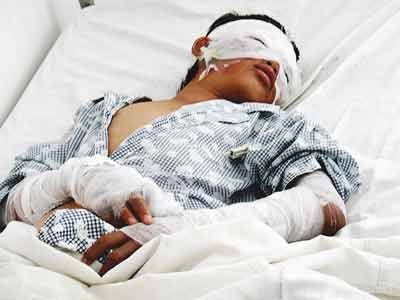 Vo Minh Phuong, one of three victims on the shrimp carrying boat, is treated at Can Tho General Hospital (Photo:SGGP)
Mr. Chen Zhi Yong, a sailor of the Singapore boat, reportedly saw gas bubbling on the river and feared a leak in the pipe when he was pumping gas into the warehouse containers on Saturday.
As the fire was spreading on the river, blazing furiously, a boat carrying shrimp heads went up in flames. Three person on the boat jumped into the river.
Nguyen Van Long and his helper Vo Minh Phuong were taken to Can Tho General Hospital for heavy burns yet Long's wife, Nguyen Hong Lai, is reported to be missing.
At his hospital bed, Phuong recalled that they had smelled petrol on the river, adding that the fire originated from the water and spread to his boat, they immediately jumped into the river.
Investigators have requested not to use the leaking pipe anymore.