Two people are reported dead and five missing after a boat carrying 35 people from Cham Island overturned close to Cua Dai Beach in the central province of Quang Nam at noon Sunday.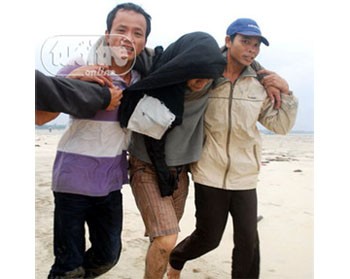 Local residents help one of the victims ashore (Photo: Tuoi Tre)
About 600 meters from Hoi An town, the boat was hit by giant waves and overturned.
The boat QNa-0063 of Battalion D70 under the provincial Military Headquarter was carrying 29 army officials, soldiers and six residents of Tan Hiep Commune in Cham Island.
Soon after being informed, the Cua Dai border post and the provincial military headquarters mobilized two vessels and two motor boats to the rescue, joined in by tens of boats belonging to local fishermen.
By 3:30pm, 29 people had been rescued and rushed to Hoi An Hospital. Rescue forces also found the dead body of Nguyen Thi Phuong, a medical staff from Tan Hiep Commune.
Giant waves and bitter cold weather hindered rescue operations and five officials and soldiers of Battalion D70 are still reported missing.
Nguyen Cuong was having his lunch when he heard a shout that a boat had overturned. He immediately rushed out and saw several people clinging onto floats and oil barrels and drifting close to the seashore.
He swam out to pull them ashore, and managed to save six lives. On seeing some others still struggling and constantly being pushed towards the shore by waves, he continued to swim back and forth saving another four people.
Another man named Nguyen Phuc said that he and several others went out to search for victims but huge waves made it difficult. Some victims who tried to swim ashore were ice-cold by the time local residents helped them out.
A helicopter had to be mobilized to search for the missing but failed in its attempt because of gigantic waves. Rescue operations continued until late afternoon.
At the Hoi An Hospital, captain Nguyen Quang Thanh Tuan, head of Battalion D70 said that the boat departed from Cham Island in normal weather. About 600m from the mainland, big waves suddenly hit the boat and damaged the rudder, overturning the boat. The captain clung to a lifebuoy and swam towards three other soldiers, who were then all saved by local residents.
The tragedy killed two and five are still missing, as reported by 6pm Sunday.