A floating raft restaurant with over 300 tourists aboard sank in Vinh Hy Bay in the south central province of Ninh Thuan yesterday, killing two and injuring three.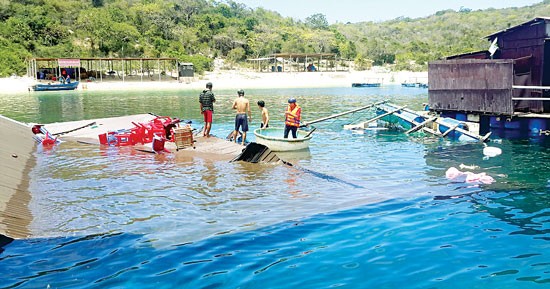 The scene of the floating raft sinking in Vinh Hy Bay (Photo: SGGP)
About 300 people were having lunch on Vinh Tien raft restaurant at 10:30 a.m. while an extra of 40 visitors from a tourist boat boarded the raft causing it overloaded and sank.
Panic tourists tried to escape the sinking raft about 100 meters from the shore. Most of them timely moved ashore because of shallow water. About 50 people fell into the sea, some managed to climb up to the raft's corrugated iron roof.
Rescue workers, the restaurant's staff and tourists who can swim positively saved many from being drown. Nearby fishermen steered their boats to the site to rescue victims.
Two have been reported dead including a 29 year old man from Long An province and 23 year old woman from Tien Giang province. They worked for a company in HCMC. The man was exhausted after saving the lives of his wife, child and some others.
Three victims of water immersion have been rushed to hospital.
Leaders of Ninh Thuan province were present at the scene right after the accident to visit victims.
At a meeting in the afternoon of the same day, deputy chairman of the committee Tran Quoc Nam said that at the time of the accident, big waves broke into the raft making tourists panic and ran into a corner of the raft making it leaning and sank.
The provincial People's Committee has asked authorized agencies to urgently investigate the accident and clarify reasons as soon as possible, he said.
All tourist boats and floating raft restaurants have been asked to stop operation until reasons are determined. Afterwards, they will be permitted to resume operation if meeting safety requirements and other conditions in accordance with the law.
The provincial Peoples' Committee and Ninh Hai district authorities gave victims financial assistances on the same day.