The Preventive Medicine Center in the Highland Province of Kon Tum yesterday said that dengue fever outbreaks re-occurred in the province, affecting 1,387 people and killing two.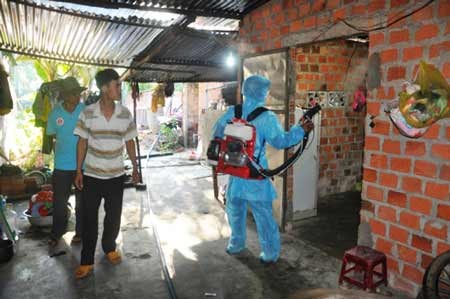 Medical workers spray chemicals to kill moquitoes in residential blocks in Kon Tum Highland province (Photo: SGGP)
Districts having most cases of dengue fever are Dak To with 495 cases; Dak Ha with 441 cases and Kon Tum city with 264 cases. However, the figure in statistics by health officials is thought to be less than the real number in localities because many inhabitants go to nearby drugstore to buy medication without doctor prescription rather than going to medical clinics for treatment.
According to the province's Preventive Medicine Center, residents' neglected behavior to the disease is the major cause for dengue fever outbreaks. Residents are not willing to kill mosquitoes, its larva, throw away water containers where mosquitoes usually lay eggs into
On the same day, the Ministry of Health said that the dengue fever is develop complicatedly with escalating number of infection cases. In July only, the country has over 5,560 cases of dengue fever with two deaths. Since the beginning of the year to now, around 45,000 dengue fever cases in 46 cities and provinces including 14 deaths. Worse, this year figure increased 2.6 times higher than the same period last year which is considered the peak season of the disease with nearly 40,000 infection cases.
Head of the Health Ministry's Preventive Medicine Department Tran Dac Phu said that the Ministry asked locality authorities to launch campaign to kill mosquitoes and its larva  as well as spray chemicals in households in a bid to curb spreading of the disease.