In a fatal bus accident on the National Highway 1A in Binh Tan District of Ho Chi Minh City at 4 am on March 25, two passengers were killed while 13 others were badly injured. 
According to the police, a speeding passenger bus travelling from the Mekong delta province of Tra Vinh to Ho Chi Minh City rammed into a parked truck. Nguyen Ut Nho, 44, and Le Minh Tho, 33, both from Tra Vinh Province, died on the spot as they were seated on the front seats of the bus.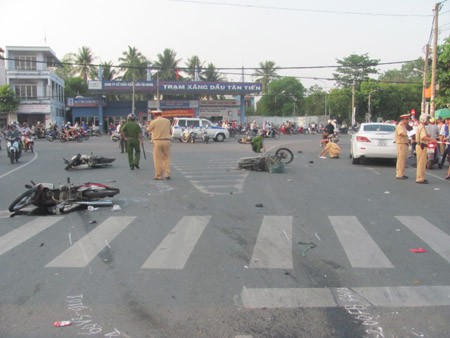 Police investigate the scene of the accident at the crossroad in the southern province of Dong Nai
The driver suffered from multi injuries while 12 other victims were pulled out of the badly wrecked bus and rushed to a nearby local hospital for emergency treatment.
In related news, a serious accident took place at the crossroad of   Duong Tu Giang and Nguyen Ai Quoc Streets in the southern province of Dong Nai.
According to initial information, a five-seater sedan crashed into the rear of five motorcycles which were waiting at the red light signal at the crossroad.
Six of the people on the motorcycles were injured and taken to Hospital 7 B. The sedan and all six motorcycles were completely damaged.
According to witnesses, when the sedan was travelling on the road, a kite and its strings got entangled with its windshield wipers, which caused the driver to lose control, and he unconsciously accelerated and rammed into the motorcycles.