Two people were held in custody for sending threatening SMS messages to leaders of Bac Ninh province on Sunday.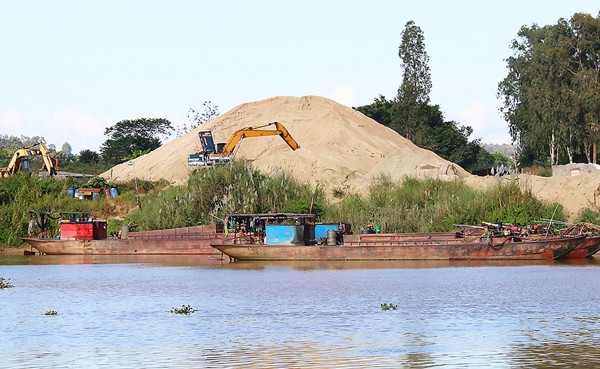 Illegal sand exploitation in the Krong No river (Photo: SGGP)

The arrest was conducted by the provincial Police Department and in coordination with the Police Department of Criminal Investigation in Social Order (C45) under the Ministry of Public Security.
Their home in Hanoi and Bac Ninh were also searched on the same day.
At the police headquarters in Bac Ninh, the subjects admitted of sending the menacing messages to many leaders and officials of the Bac Ninh People's Committee including chairman Nguyen Tu Quynh.
They are not workers of a company implementing a passage dredging project in the Cau River. They work for a firm unlicensed to carry out such project. The threatening message sending aims to discredit and impact operation of the licensed one and direct authorized agencies' attention to that firm.
At present, C45 is working with Bac Ninh Police to continue investigation and make clear violations by other people relevant to the case.
According to the provincial People's Committee, the passage dredging project was carried out by Ha Luu Passage Salvage Joint Stock Company in 2015 and 2016.

By the end of 2016, the province sent a document to relevant ministries proposing to stop the project for sand overexploitation causing landslide. Since 2016, the province has spent VND30 billion (US$1.32 million) on fortifying eroded embankments in Que Vo district.

Related article:
Prime Minister asks investigation over Bac Ninh leader threatening