A tourist boat hit a cargo barge on Hau River in Can Tho city on March 21 killing two people. Can Tho authorities are conducting investigations.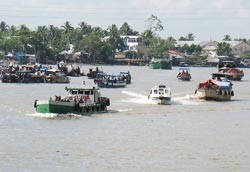 Traffic on Cai Rang River can be hectic (Photo SGGP)
The incident is one more warning over water safety around Cai Rang's floating markets in Can Tho city in particular and Mekong Delta in general. One of the two victims was Le Van Khoi, 60, Vietnamese-American and another was Nguyen Huu Quan, Vietnamese tourist.
On March 21, Ho Trung Nam controlled a small, old, wooden tourist boat. It was badly maintained and had no number plate. The boat was carrying 12 passengers, plus Nam, but was only allowed to carry a maximum of 10 people.
All passengers and the steersman did not wear life jackets. Nam swam away from the scene of the accident.
Ho Trung Nam did not present requisite papers, such as driving license, and vehicle and ship registrations when officials asked him.
The incident was not only caused by Nam but is also the responsibility of relevant departments, such as Can Tho Traffic and Transport industry, river police, local governments, and Can Tho tourist industry.
Over many years, the tourist industry has developed, with Cai Rang floating market and Ninh Kieu station becoming tourist attractions for many foreign travelers.
Locals have ferried boats to carry visitors to visit Cai Rang floating market without oversight by local authorities
Authorities do not manage the boats well, which are often overloaded and rarely follow regulations.
Additionally, most customers come on tours, with tourist companies and shipping agencies not buying insurance for them. They have no respect for customers, which has been prevalent for many years.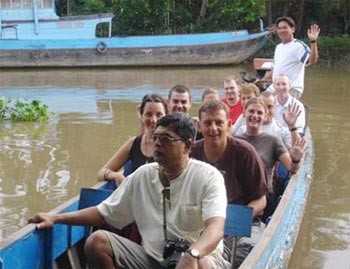 A boat carrying visitors to Cai Rang floating market
For Cai Rang floating market to continue to attract foreign travelers, local authorities, the tourist industry and agencies need to ensure river traffic safety and boat quality.
In the Cuu Long (Mekong Delta) region, there are many floating markets, such as Cai Rang, Nga Bay, Binh Dien, Phong Dien, Cai Be, Long Xuyen and Chau Doc. Cai Rang, however, is the most famous, because it has the most trading activities.
The Cai Rang floating market was born many years ago after the locals' habits of travelling and doing business by boat.
According to Can Tho Traffic manager, at the current time, Can Tho has 65,990 boats. Among them, 5,500 vehicles were registered, 25,900 vehicles were not registered and the remaining do not have to be registered.
It also has 1.587 steersmen, with 168 of them with driving licenses.