Two people suffered severe burns yesterday when their car suddenly burst into flames while driving on a road in the central province of Quang Tri.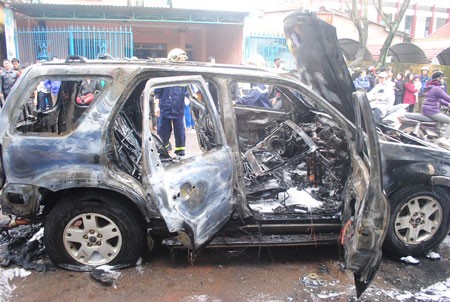 Two people suffer severe burns when the car abruptly catch fire on Nguyen Trai Street in Dong Ha City of Quang Tri Province on December 31  (Photo: Dan Tri)

At 1.15 pm yesterday, a car travelling on Nguyen Trai Street in Dong Ha City of Quang Tri Province abruptly burst into flames. 30 fire fighters and several police officials promptly arrived at the scene to help extinguish the fire.
By the time the fire was doused, the flames had reduced the car to a charred heap of metal, with both the driver and rider suffering serious burn injuries.
Dang Thi Huong, 24 and Le Canh Hau, 36, were taken to the General Hospital in Quang Tri Province for emergency treatment. However, as their injuries were far too severe they were transferred to the Hue Central Hospital in the central province of Thua Thien-Hue.
On December 31, a passenger coach burst into flames while travelling on the Da Lat-Lien Khuong Highway in Duc Trong District in the highland province of Lam Dong.
The Ford sedan car driven by 26-year-old Do Van Thanh, from the Mekong delta province of Vinh Long, caught fire upon hitting the rear of a truck travelling ahead of him. At that time, the car was transporting 10 people from Vinh Long Province to the central highlands town of Da Lat.
People rushed to douse the fire with a fire extinguisher but in vain, as huge flames soon engulfed the entire car, burning it down completely. Luckily, no one was hurt.

Related articles:
Police: Short circuit in battery, possible cause of motorbike explosions
Bac Ninh police probe deadly motorbike explosion
Yet another scooter bursts into flames in Hanoi
Two more motorbikes, a car catch fire in Hanoi
Yet another scooter, sedan car catches fire
Science ministry rules out 5 gasoline samples cause of vehicular fires